Yada Fitness Center | goa Sports Architecture Works: Space Regenerating Vitality of Exercise
Date:2022.11.10
In over 300 years since the concept birth of "life lies in movement", the value of sport to human being is always irreplaceable for it means health, vitality and fresh living experience. The global pandemic inspires rethinking on "healthy life".
Under the call of "national fitness" in National Fitness Program (2021-2025) issued by State Council in 2021, the sports architecture becomes in a popular, professional and diversified style. Now, sports buildings are no longer a large-scale comprehensive sports field according to the municipal or provincial administrative zone planning, but fully integrate diversified functions into daily life. It could be a featured stadium integrating sports and recreation, a distinguished experience in beautiful natural landscape, or a small-scale sports hub serving the community.
goa's sports architecture works completed recently have a common mission of "immerse sports fun into public life", although they have different scales and forms. They combine culture, leisure and other functions into one based on sports activities and finally bring healthier and more vital lifestyle to users.
Yada Sports Fitness Center
Experience Landscape in Sports
--
2021, Yixing, Jiangsu
Yada Sports Fitness Center lies at Yangxian Xishan, Yixing, Jiangsu. It forms a natural fitness and sports field with other exercise facilities in the 6000 mu landscape. It enjoys excellent natural view that faces to Yangxian Lake, backs to the distinguished mine cliff and integrating natural features around.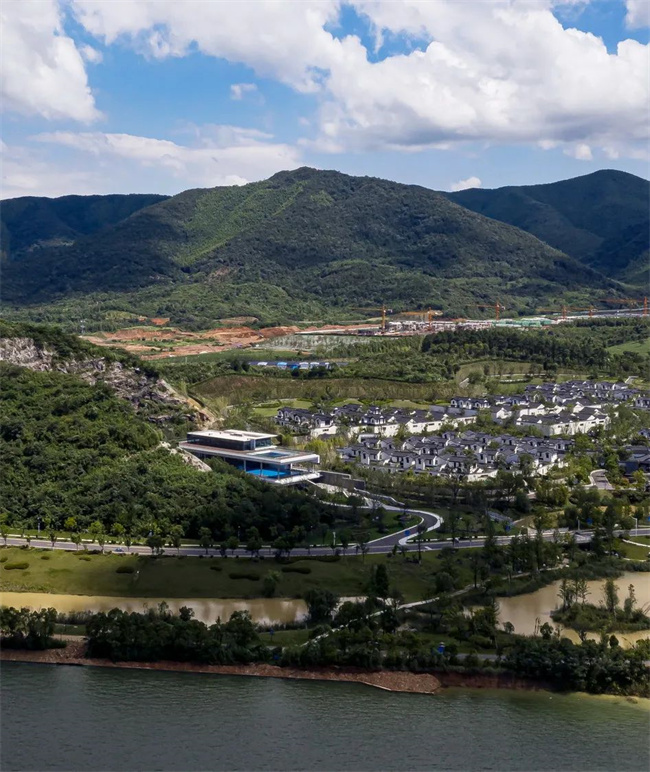 △Fitness Center in the landscape ©goa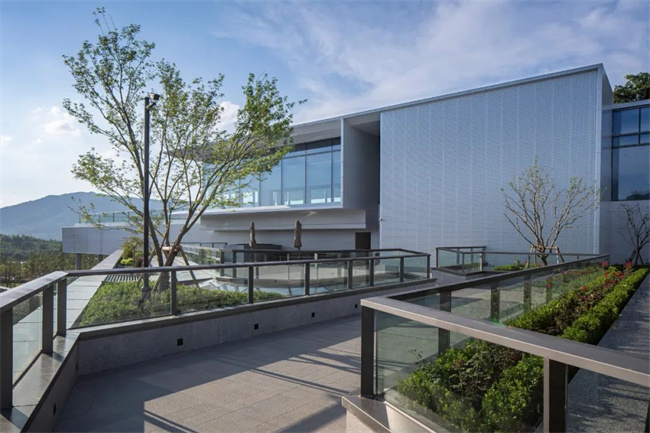 △External Platform ©goa
Architecture is regarded as a "container" of landscape. The swimming pool on the second floor is designed into a floating "box" inserting into the building to forming a distinct image of the entrance. The swimming pool is made up of outdoor and indoor zones, forming a nearly 50-meter-long water surface. To improve the brightness, the façade above the standard height of water surface of the indoor zone uses glass. The six-meter-wide glass units are fixed in the form of hanging frame to offer an unrestricted view sight for swimmers at most.
△ Swimming Pool on the Second Floor ©goa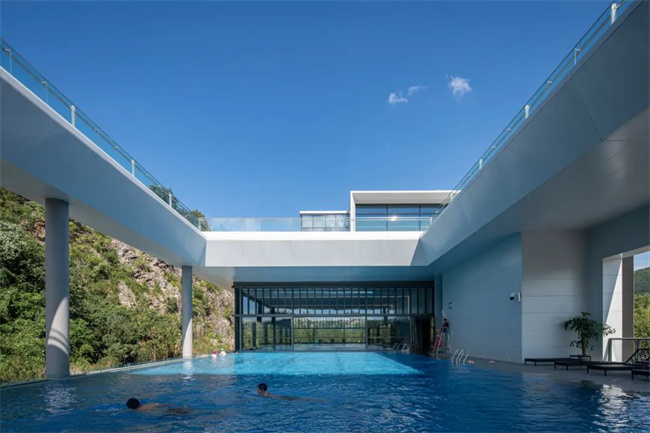 △ Outdoor Zone of Swimming Pool ©goa
△ Indoor Zone of Swimming Pool ©goa
The calm water surface reflects nearby rocks and faraway hills and sky in subtle shades. Swimmers seem to swim in cliffs and mountains. In the glimmer of dusk, reflections on the water get clearer. The feeling of dialogue between people and rock and landscape becomes more real.
△ Effect of Indoor swimming pool in the dusk ©WJ STUDIO Zhang Xi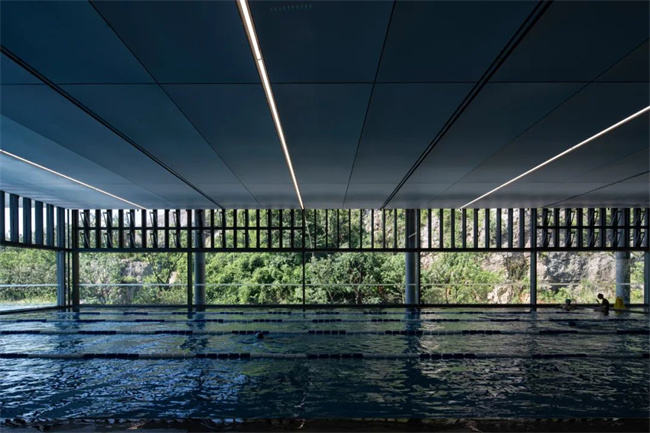 △ Outdoor landscape reflected on the swimming pool ©goa
Besides the swimming pool, there are fitness rooms, golf driving range, and ping pong room in the inside, and basketball court, tennis court and active sports zone outside. Multiple exercise functions make it the center of vitality in the zone, attracting residents and travelers to enjoy the experience of exercise in the nature here.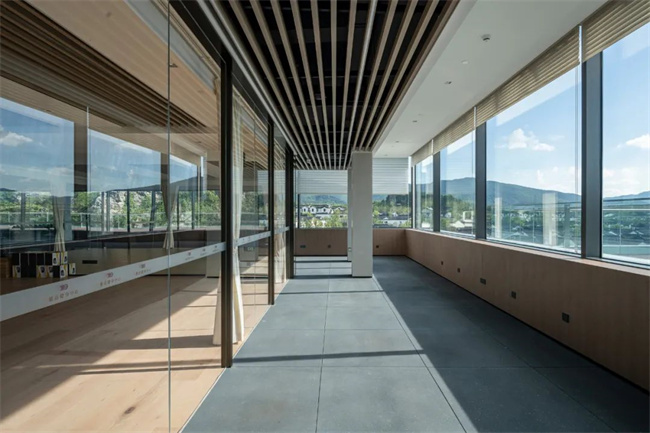 △ Fitness rooms and corridors ©goa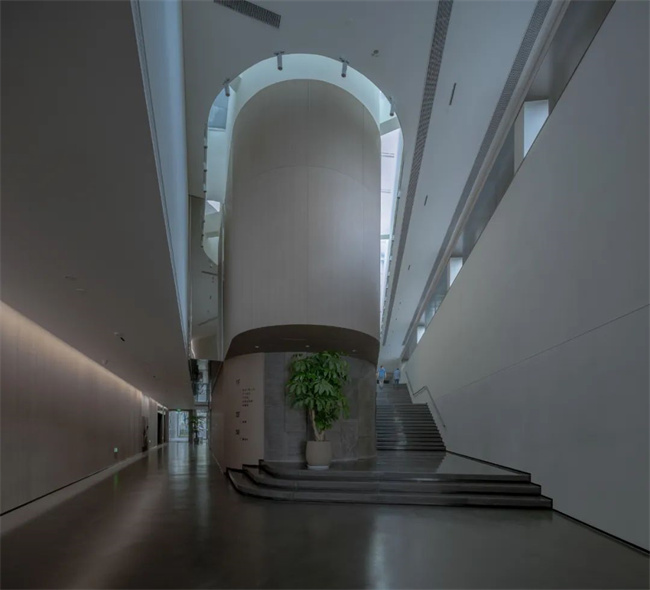 △ Fitness Center hall ©goa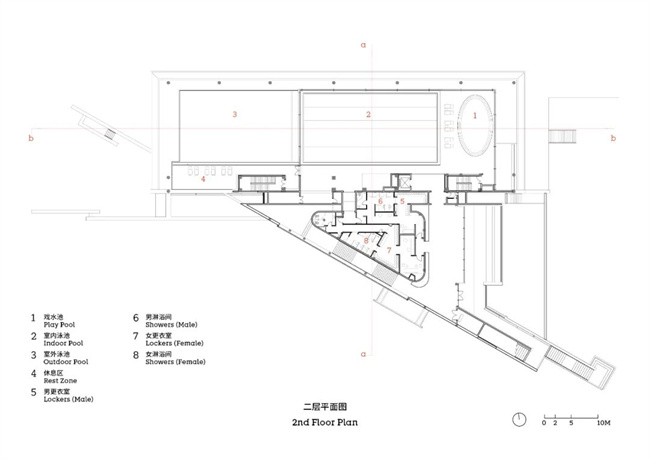 △ Plan ©goa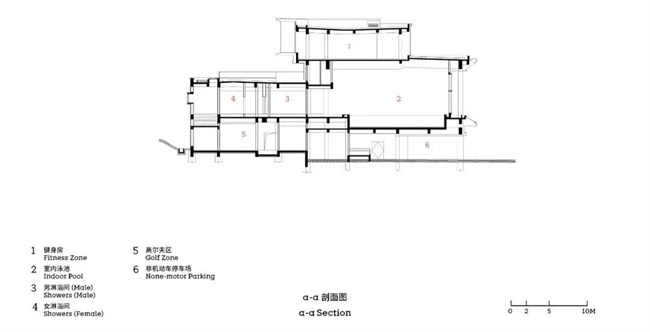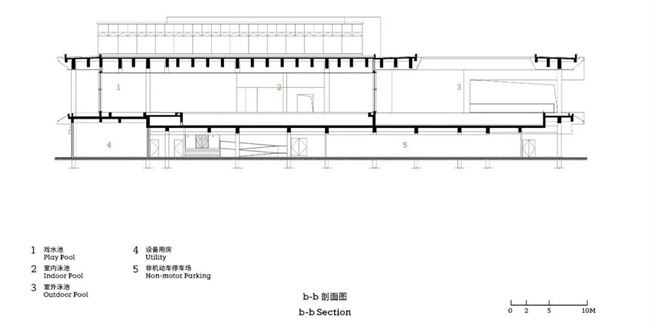 △ Cross-section view ©goa
Project Name: Yada Sports Fitness Center
Designer: goa
Address: Yixing, Jiangsu
Design/Completion: 2019-2021
Floor Area: 4869 m2
Image Copyright: goa, WJ STUDIO, Zhang Xi
(Excerpted from You Fang Space Wechat Official Account 《Space Regenerating Exercise Vitality: Three goa Sports Architecture Works》